Sitting on the balcony of our Mantra Hervey Bay room with a cooling 'sunset' in my hand I can't help but think of Otis Redding's most famous song:
"Sittin' in the mornin' sun
I'll be sittin' when the evenin' comes
Watchin' the ships roll in
Then I watch 'em roll away again'
The room
Views don't get much better than this. The last of the gleaming, white catamarans roll in after another day of whale-watching adventure. Glassy, deep aquamarine water gives way to the start of a spectacular sunset over K'gari (Fraser Island).
How did we get here? One simple line: "You don't have to splash out a fortune to see the whales at play in Hervey Bay this year". I took the bait – hook, line and sinker.
Mantra Hervey Bay is offering accommodation, a discount on whale watching tours, a bottle of wine and whale watching gift pack from as little $117 per night. Here you can almost touch the boats. Making it the best place to spend a few days exploring Hervey Bay's diving and fishing wonders.
Last year, Hervey Bay was named the world's first Whale Heritage Site by the World Cetacean Alliance. Approximately 8,000 migrating humpback whales spend a little R and R here each year. Mothers and calves rest on their way back from tropical waters before starting the next leg of their journey to the Antarctic. 
Our room isn't equipped with a kitchenette but it is in the centre of all the action with restaurants and cafes on the doorstep. Comfortable and spacious for two it's the perfect location with boats at the ready to take you to K'gari and beyond. 
There's also a heated lagoon pool and children's pool. Some ground floor suites have the ultimate feature – swim-up access. Families are well catered for with one, two and 3-bedroom apartments – some with spa baths.
You can book here or call 1300 987 603
Enjoy our latest feature: An interactive 360˚  Panorama of the resort and pools. (With a bonus marina view!)
Whale Watching with Freedom Whale Watch
The sky is the deepest of blue and cloudless as we take a 2-minute walk to Freedom III. Within minutes of leaving the Urangan Marina, we can see humpbacks catapulting out of the ocean – but at a distance. All of a sudden a Mum and calf take a long hard look at us and she must think we look ok because they decide to hang around a while.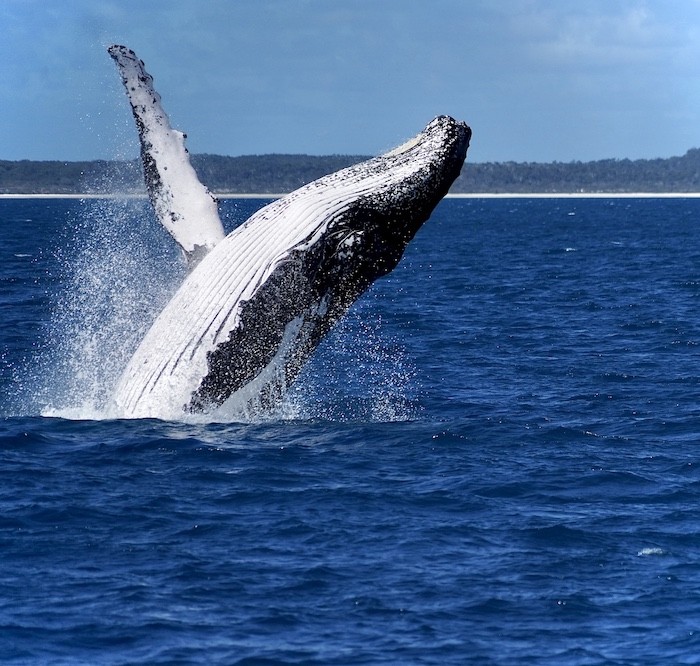 Skipper Keith says it is unusual for a mother to allow her calf to be between her and the boat. She starts her breaching lessons and all onboard are transfixed. Then we spot more and more. With so many whales about head home a full hour later than usual. 
In coming weeks we'll share more whale-watching wonder.
Hervey Bay Eco Marine Tours Turtle Discovery Tour
When you've had your fill of whales the best tour out of Hervey Bay is the Turtle Discovery Tour. Milbi (local Batjdala word for turtle) is a glass-bottomed boat that takes you to all those places that the bigger boats can't. We know it's going to be a great day as even before we leave the Marina we spot two turtles getting cosy.
Buallum Ngiya (Pelican Banks) is our first stop. Brilliant white sand and the clearest warm water makes this is the desert island of your dreams. Burrad tells us the Batjdala story of K'Gari and welcomes us to country in both song and dance.
After lunch, we head to Weenandin (Round Island) where cormorants and many other sea birds call home. Wil our captain tells us the cormorants usually mean dolphins are about. And right on cue, we find a pair that dart around and under the boat. 
More on the Turtle Discovery Tour soon.
TML were guests of Accor, Freedom Whale Watch and Hervey Bay Eco Marine Tours.