It's a terrible war.
Your country has been overrun.
You must seek temporary refuge but you must send a message of hope to your countrymen.
Where do you go?
To an English pub of course.
The French House in London's Soho is a small pub with a large history. Of its many stories one says that, in these very rooms, General Charles de Gaulle penned the message to be passed on to all loyal French men and women. Some say he established the headquarters of the Free French there. He returned to Paris in triumph three years later.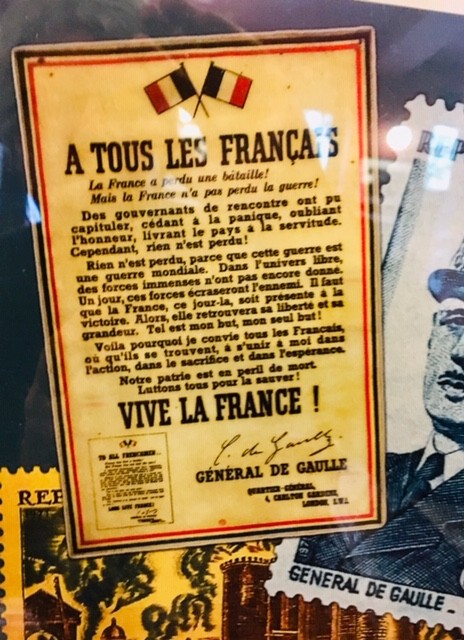 The message begins:
A TOUS LES FRANÇAIS
La France a perdu une bâtaille!
Mais la France n'a pas perdu la guerre!
TO ALL FRENCH PEOPLE
France has lost a battle!
But France has not lost the war!
Back to the Beginning
The pub
then named The York Minster,
was opened by a chap called Christian Schmi
dt
a German in
1891. His widow sold it to a Belgian Victor Berlemont
in 1914. Victor was succeeded by his son Gaston, born upstairs in the pub, who was th
e
impeccably moustached landlord until 1989. A long time amongst drinks.
Regarded by many as the perfect publican, Gaston was charming but firm as he presided over the single-roomed space regularly jammed with London's bohemia: artists (Lucien Freud, Augustus John, Malcolm Lowry, Francis Bacon) writers (Dylan Thomas, Daniel Farson, Brendan Behan, Sylvia Plath, John Mortimer) and actors (almost all who worked in this theatre-rich area off Shaftesbury Avenue. It has been reported Orson Welles and Errol Flynn were known to check for interesting bottles in the cellar)
Today in the French
Lesley Lewis is now The Landlord. A long-time Soho habituée and  former cabaret dancer she often sits on the customers' side of the bar chatting to her many old mates. Subdued conversation and laughter all round. You'd swear you seen many of the faces before. It's like a gentle village pub in the middle of a grasping grimy city.
Everyone now knows the place as The French House or simply The French. More wine than beer is consumed and there are many French wines by the glass. It is said to sell more Ricard than anywhere else in the UK.
There are a couple of simple rules for you to observe to fit comfortably in here.
First, no mobile phone conversations. Outside now!
Also amongst the limited tap beer selection (we liked the Camden Pale Ale) there are no pints, only halves. A tradition Gaston implemented in the 1920s because one day he lost too many heavy glass pint 'handles' when a gang of brawling French sailors were using them on each other's heads.
We here for the Déjeuner
The even smaller space upstairs has only been a restaurant in recent decades. More a dining room. Small tables. Seats only 20. Small menu. Huge flavours. Just two people serving the food and wine. We carry half of our third half pint upstairs when our table is ready.
Menu studied. You could eat it all. We ask how big the portions. Mercifully not huge.  As always we do some sharing.
A whole head of confit garlic on sourdough toast slathered with goats curd. The soft translucent cloves are easily squeezed out and spread amongst the creamy goaty goodness.
Pig's head terrine with pickled onions. Plenty of chunky toast, with quite a generous slab, more jellyish than meaty and what a luscious mouthful. Cut in between by the gorgeous grippy magenta slices.
A glass of Macon Villages 2017 at E4.70 and a glass of Chablis Dom Chatelain 2017 at E6.50.
A real steak
Not quite the trad bifstec and frites. This was its bigger more substantial and worldly brother. We shared a very decent thick cushion of delicious meat. Perfectly rare, every mouthful juicy and fine in flavor. The frits are not those crunchy skinny buggers, closer to a chip with soft centres but still elegant. Alongside some hand-chopped and creamed horseradish. Au point, the perfect amount of bite.
The simple green salad was in itself worth the trip. Rocket and shallot, unctuous with balanced oiliness and a chef's sure hand with the salt. Merci, chef. (Although the hand belongs to respected Englishman, Neil Borthwick)
Cheese plate of course.
Desserts were Chocolate and Orange Mousse or Crème Brulée. They will have to wait till next time.
We had three cheeses, all French for E10, with Chèvre Emilion a rumpled skin goat, soft as clotted cream, a firm cheddar-like Laguiole, and a blue d'Auvergne. How do you say yum in French? I've just been told it's miam.
To go with all that. Bourgogne Pinot Noir2015-2016 E5.50 and Cotes de Rhone Villages 2015 E4.70.
By then we are surely satisfied, but not replete.
We'd love to come back tomorrow for what we missed but we now have to endure the torture of the trip to Heathrow and the long way home.
We promised ourselves a relaxing holiday with no Michelin stargazing. A not-very-upmarket trip. Small places with good cooking.
Upstairs at the French was just what the Docteur, or the General, ordered.
Take a small taste trip www.frenchhousesoho.com